Homes in Brighton, Colorado
Brighton has been the recipient of some very prestigious awards and recognition over the last few years. The city was among those featured in the "100 Best Communities for Young People" by America's Promise Alliance and ING. Located about 30 minutes from downtown Denver and DIA, Brighton is never far from all the amenities and conveniences of the large metro Denver area.

Brighton offers mountain views on clear days, and its located just north of the Rocky Mountain Arsenal National Wildlife Refuge which features natural open space, lakes, wetlands, prairie grasslands, and more than 330 species of animals, including deer and the great American bison.

Brighton hosts a wide variety of special events throughout the year, including a Summerfest, the Eggstravaganza, summer concerts and movies in the park, and the second largest holiday parade in Colorado, plus the annual Festival of Lights. The town's amenities include a recreation center with an indoor swimming pool and slide, a state-of-the-art medical center, the first ever carbon-negative library in the country, and a historic downtown that boasts one of Colorado's original Main Streets.

Brighton's Armory, formerly a storage build for the Colorado National Guard's arms and military equipment, is now the heart of Brighton's community as a modern arts venue in the middle of downtown.

Brighton is home to two Vestas plants, one of the largest wind turbine manufacturers in the world. The Vestas plants provide thousands of local jobs, manufacturing many of the wind turbines found throughout the nation.

Brighton has a large and dynamic Hispanic population and is a virtual melting pot of descendants from across the globe, creating exceptional diversity. The housing market in Brighton is among the most affordable in the metro Denver area.
List of Zipcodes
| Zip Code | Zip Code Name | Zip Code Population |
| --- | --- | --- |
| 80601 | Brighton | |
| 80602 | Brighton | |
| 80640 | Henderson | |
Demographics
| | Zip Code | City | County | State | National |
| --- | --- | --- | --- | --- | --- |
| Population | 4,270 | — | 585,026 | 5,759,582 | 331,426,769 |
| Population Density | 49.4 | — | 765.5 | 55.5 | 93.8 |
| Percent Male | 49.0% | — | 50.0% | 49.0% | 49.0% |
| Percent Female | 51.0% | — | 50.0% | 51.0% | 51.0% |
| Median Age | 50.8 | — | 42.6 | 40.2 | 39.0 |
| People per Household | 2.6 | — | 2.47 | 2.8 | 2.6 |
| Median Household Income | $106,904 | — | $80,305 | $115,942 | $61,963 |
| Average Income per Capital | $52,013 | — | $42,520 | $50,725 | $33,235 |
Market Data
| | Zip Code | City | County | State | National |
| --- | --- | --- | --- | --- | --- |
| Median Sale Price | $725,000 | — | $475,000 | $425,100 | $277,796 |
| Median Age of Home | 37.0 | — | 53.0 | 39.0 | 49.0 |
| Homes Owned | 86.0% | — | 68.0% | 67.0% | 58.0% |
| Homes Rented | 10.0% | — | 28.0% | 23.0% | 31.0% |
| Homes Vacant | 5.0% | — | 5.0% | 4.0% | 11.0% |
Market Trend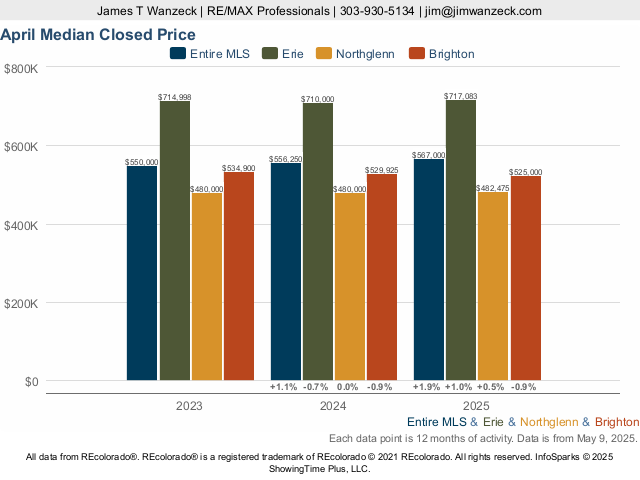 194 properties on market
Contact Us
RE/MAX Professionals
6020 Greenwood Plaza Boulevard
Greenwood Village, CO 80111, USA
Valuation Index
Quality of Life - 90%
Climate & Environment - 75%
Schools & Education - 73%
Safety & Crime - 17%
Walk Score®
Schools & Education
Safety & Crime
Zip Code
City
County
State
National

Violent Crimes

Calculated annually per 100,000 residents

Assault
162.9
—
255.9
246.3
250.2
Murder
2.2
—
2.8
3.8
5.0
Rape
70.4
—
68.3
67.2
42.6
Robbery
123.3
—
51.7
63.6
81.6

Property Crimes

Calculated annually per 100,000 residents

Burglary
223.7
—
425.3
348.4
340.5
Theft
360.4
—
641.0
1,858.3
1,549.5
Motor Vehicle Theft
603.0
—
125.9
384.0
219.9
Take a photo of this QR code
to keep this website details